Updated Job Support Scheme 
Are you aware of the new government support available for your business and employees?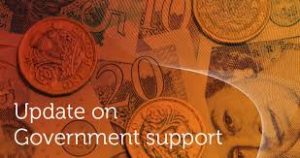 A newly updated Job Support Scheme will replace the furlough scheme on 1 November, in an attempt to help business owners retain their staff.
If you have to close your business, your staff could receive 67% of their wages, up to a maximum of £2,100 a month. The employee must be off work for a minimum of seven days to be eligible. You won't have to pay towards their salary.
What if your business is open but not busy?
.
If your business can stay open but your employees have less work available, they can work part-time and still receive extra support. This is regardless of which tier you're in.
.
You will have to pay your staff to work at least 20% of their usual hours per month. You must pay an extra 4% of total wages, and the government will pay 49% of their total salary.
.
In total, the employee would receive at least 73% of their salary for working 20% of their contracted hours. The maximum contribution the government will make is £1,541.75. To qualify, you must have been on your work's payroll since 23 September.
.
You can be moved on and off the scheme, or work different hours, but each working arrangement must cover at least seven days. The scheme will run for six months from 1 November, and then be reviewed.
.
A grant available to self-employed people affected by coronavirus has also been doubled to 40% of profits, with a maximum grant of £3,750 over a three-month period.
.
0
At Integrity Accountancy Services, we are more than happy to help more businesses receive these support payments and grants. Even if you would just like to know more information about this, please don't hesitate to contact us on 0121 777 5361